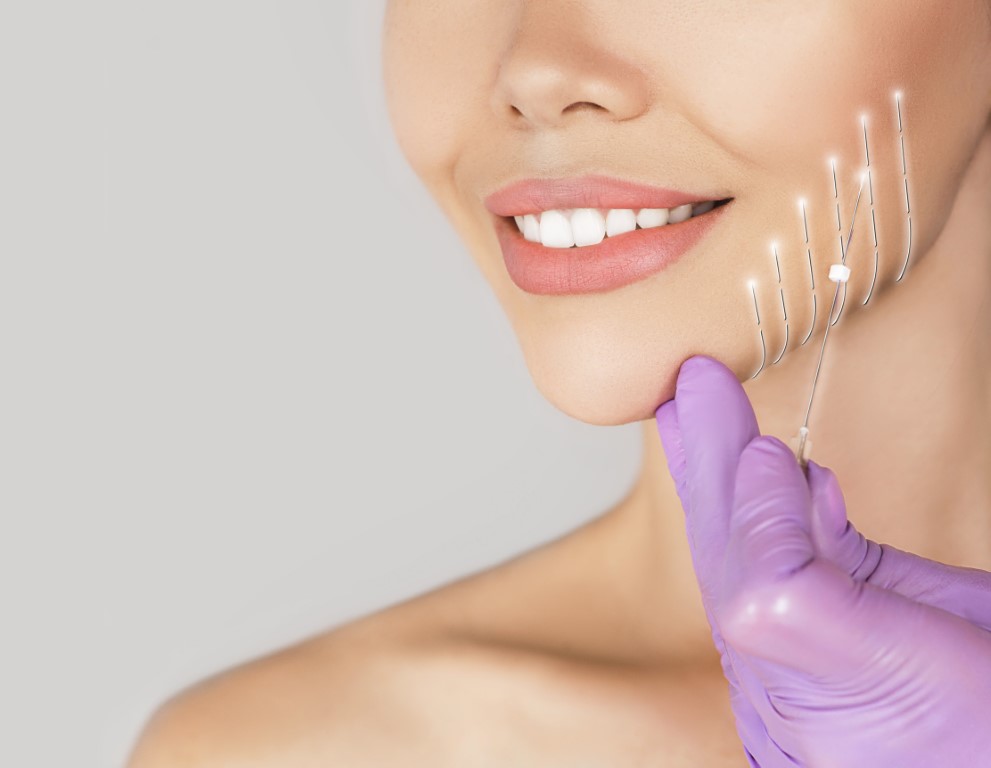 Aptos Thread Lifting is a game-changing, non-surgical solution to lift and rejuvenate your skin. We are excited to introduce you to Aptos Thread Lifting, the revolutionary treatment that's taking the beauty world by storm. Forget about the hassle of surgical procedures and long recovery times. With Aptos, you're looking at immediate, long-lasting results.
Ready to redefine your beauty standards? Cranbourne Medical & Skin Clinic is just a call away. Book your consultation today and let's get this beauty journey started.
How Does Aptos Thread Lift Work?
Aptos thread lift is a cutting-edge, non-surgical treatment for a youthful skin lift without the scalpel. Aptos threads are medical-grade threads that get gently inserted into the soft tissue of your skin. No cutting, no stitches. Once they're in, they start stimulating collagen production. Collagen keeps your skin looking plump and youthful.
They dissolve over time, but before they do, they create a support scaffolding made of collagen. This scaffolding keeps your skin lifted and firm for years to come. 
You get an immediate lift, your saggy skin tightens up, and your wrinkles smooth out. Plus, your skin tone and texture get a boost. All of this without going under the knife or spending weeks in recovery. It's no wonder Aptos Thread Lifting is becoming the go-to treatment for those who want to look younger.
Why Aptos Thread Lifting?
Great question! Aptos has been a leader in thread lifting for years. They've got international acclaim and have even won some awards for their innovative technology. So, you're getting a procedure that's been tried and tested
Why Cranbourne Medical & Skin Clinic is Your Go-To for Aptos Thread Lifting
Our team is trained and accredited by Aptos and we offer personalized treatment plans. We're committed to your satisfaction. Because we're not just about making you look good; we're about making you feel good. In short, we're your partners in this beauty journey.
From Consultation to Aftercare
The Consultation: Your Personalized Treatment Plan
You will need an initial consultation. At Cranbourne Medical & Skin Clinic, we tailor the treatment to you. We'll discuss your beauty goals, assess your skin, and create a personalized treatment plan. It's all about making sure the Aptos thread lift is the right fit for you.
The Procedure: What to Expect
On the day of the procedure, you'll come into our clinic. You'll get a local anesthetic to keep things comfortable. Then, our accredited healthcare practitioners will insert the Aptos threads into the targeted areas. The whole thing takes less than an hour.
The Aftermath: Minimal Downtime, Maximum Results
After the procedure, you might feel a bit tender. Maybe some minor swelling. But that's it. Most people are back to their regular activities in a couple of days. And the results? Immediate and long-lasting. You'll see a lift right away, and your skin will keep improving as the threads stimulate collagen production.
The Follow-Up: Keeping You in the Loop
We don't just wave goodbye after the procedure. We'll schedule a follow-up appointment to make sure everything's going as planned. If you have any questions or concerns, we're here for you. Your satisfaction is our top priority.
Making the Most of Your Aptos Thread Lift
Aptos Thread Lifting is a long-term investment in your beauty. The threads stimulate collagen production for ongoing rejuvenation. So, how do you make the most of it? Simple. Maintain a healthy lifestyle. Eat well. Stay hydrated. Use quality skincare products. 
I've Got Sensitive Skin. Is Aptos Thread Lifting Going To  Be a Problem?
Aptos threads are made from biocompatible materials. That means they're unlikely to cause any allergic reactions. But since everyone's skin is different, we recommend a consultation first. We'll go over your skin type and any concerns you might have.
Can the thread lift be used for the Neck?
Aptos isn't just for your face. It can work wonders on your neck too. It can tighten that sagging skin and give you a more youthful neckline.
How Safe is Aptos?
Aptos is a global leader in thread-lifting technology. They've won awards for it and have top-of-the-line safety and effectiveness. Plus, our healthcare practitioners are accredited and trained by Aptos. You're in good hands.
How Much Does It Cost?
The price can vary depending on what you're getting done. But think about it this way: the results last for years and It's a long-term investment in looking younger
I've Got a Special Event in a Month. Is That Enough Time to See Results?
Absolutely! One of the standout features of Aptos Thread Lifting is the immediacy of the results. You'll notice a lift and tightening effect right after the procedure. Plus, any minor swelling or bruising usually subsides within a few days. 
I've Heard Aptos Thread Lift Can Also Help with Wrinkles. Is That True?
Thread Lifting does more than just lift; it also smooths out wrinkles. The threads stimulate collagen production, which in turn improves the skin's elasticity. 
How Long Will the Results Last?
The results of an Aptos Thread Lift can last for several years. The threads themselves dissolve within 18-24 months, but the collagen they stimulate sticks around, keeping your skin lifted and youthful. It's a long-term beauty investment.
I've Got More Than One Problem Area. Can I Get Multiple Areas Treated at Once?
Aptos Thread Lifting is incredibly versatile. Whether it's your cheeks, brows, or even the neck area, we can target multiple problem areas in a single session. During your consultation, we'll discuss your specific needs and tailor a treatment plan just for you.
So, what are you waiting for? Book your consultation today and let's get started on your beauty journey.