Thread Lifting in Cranbourne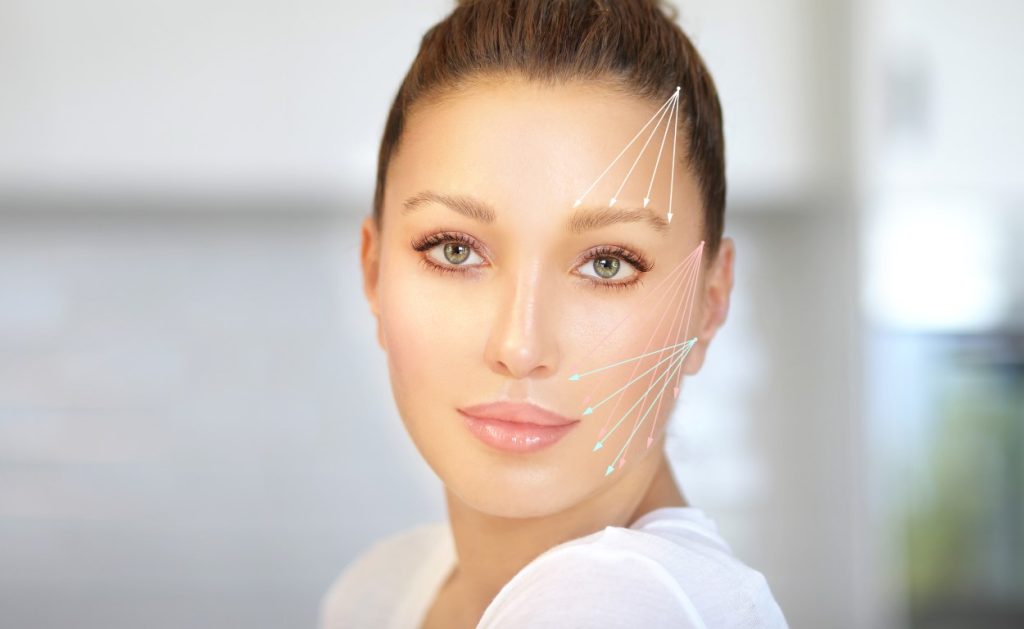 As we age, our skin loses collagen and elasticity, which can cause it to sag. A thread lift can help to combat this by giving the skin a "lift." A thread lift is a minimally-invasive procedure that can help to tighten and lift skin. The procedure uses dissolvable sutures, meaning that it does not require going under a scalpel.
How Does a Thread Lift Work?
A thread lift works by using special threads (or sutures) that are inserted under the skin. The threads are then pulled tight, which helps to lift and tighten the skin.
There are two types of threads that can be used in a thread lift: absorbable and non-absorbable. Absorbable threads dissolve over time, while non-absorbable threads remain in place indefinitely. Your doctor will help you decide which type of thread is right for you based on your individual goals and needs.
PDO threads are made from polydioxanone, a synthetic absorbable material. They were first introduced for use in surgery in the 1980s, and are commonly used for sutures. PDO threads can also be used for cosmetic purposes. When injected into the skin, they help to lift and tighten sagging tissue. The threads are inserted using a needle, and then anchor to the surrounding tissue. Once in place, the threads are tightened, resulting in an immediate lifting effect. The threads also stimulate collagen production, which helps to further improve the appearance of the skin over time. PDO threads are a safe and effective way to achieve a more youthful appearance, and can be used on any area of the face or body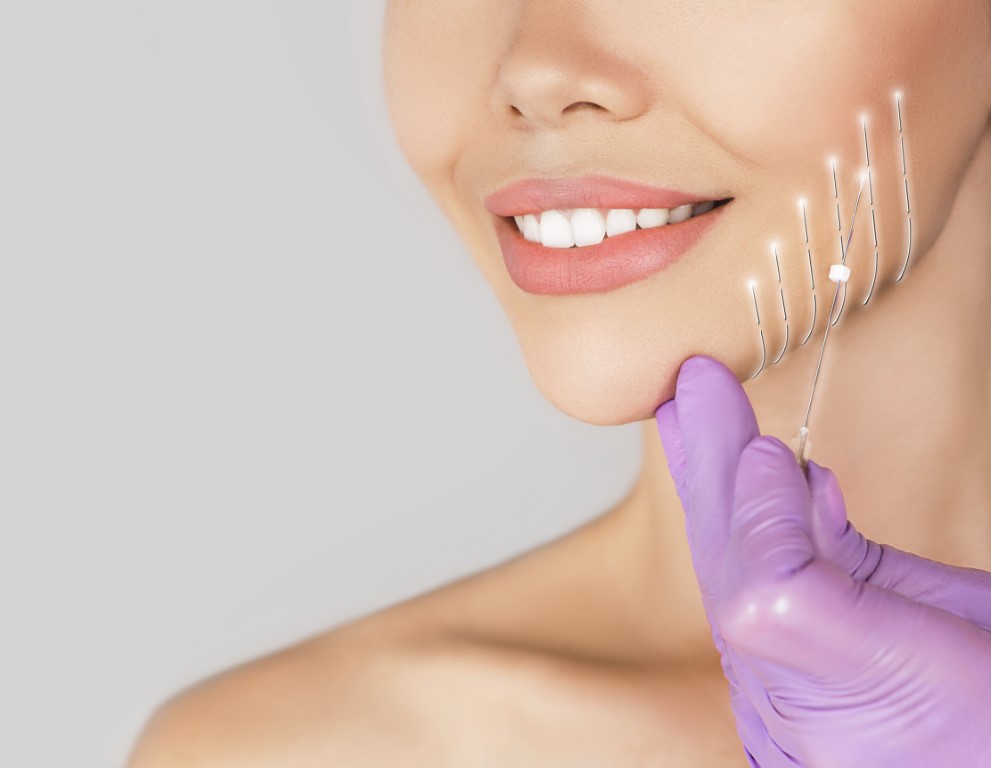 What Benefits Does a PDO Thread Lift Provide?
A PDO thread lift is a minimally invasive cosmetic procedure that can be used to improve the appearance of the face and  neck,. The threads are made of a biocompatible material that is slowly absorbed by the body over time. The threads can be used to lift sagging skin, soften lines and wrinkles, and contour the face and neck.. The results of a PDO thread lift are not permanent, but they can last for several months to a year. For best results, multiple treatments may be necessary. A PDO thread lift is an ideal option for those who want to improve their appearance without surgery or downtime.
The Procedure
A thread lift is typically performed as an outpatient procedure, meaning you won't need to stay overnight in the hospital. The procedure itself takes about an hour, although you may need to spend additional time in recovery before being discharged
Before the procedure begins, your doctor will numb the treatment area with local anesthesia. Once you're feeling comfortable, the doctor will make tiny entry point in the skin and insert the threads. The threads will then be pulled tight and secured in place. Finally, the entry point will be covered with adhesive bandages such as band aids.
Recovery
You may experience some redness, swelling, bruising, and discomfort after your procedure—but don't worry, this is all perfectly normal. These side effects should subside within a week or two. You may also feel some tugging or pulling at the treatment site; this is also normal and will go away as your body adjusts to the threads
It's important to get plenty of rest and avoid vigorous activity for at least a week after your procedure; this will give your body time to heal properly. You should also avoid or touching the treatment area unnecessarily, sleep on your face, yawn etc. during this time period
Is PDO thread Lift for face safe?
PDO thread lifts have become a popular cosmetic treatment in recent years, offering patients a minimally invasive option for facial rejuvenation. But is PDO thread lift for face a safe cosmetic treatment? The answer is yes, PDO thread lifts are considered to be a safe and effective way to achieve noticeable results with minimal risk and downtime. The procedure involves the placement of special surgical threads under the skin, which are then used to lift and reposition sagging tissue. Because the threads are absorbable, they will eventually dissolve over time, leaving behind no permanent changes. Additionally, PDO thread lifts can be used to target specific areas of the face, such as the cheeks, jawline, or eyebrows, allowing patients to achieve a tailored result. So if you're looking for a safe and effective way to rejuvenate your appearance, PDO thread lift for face may be right for you.
How effective is a thread lift, and what sort of results can I anticipate?
The results of a thread lift are usually visible immediately, and they will continue to improve over the next few weeks as the threads stimulate collagen production and then slowly dissolve. In most cases, the results of a thread lift can last for up to 12-14 months. If you are looking for a way to achieve long-lasting results with minimal downtime, a thread lift may be the perfect option for you.
What Advantages Do PDO Thread Lifts Offer?
Thread lifts offer many benefits over traditional facelifts—including being less invasive, having fewer side effects, and requiring less recovery time and less costly than a surgical lift.
First of all, PDO thread lifts are much less invasive than traditional facelifts. There is no need for general  anesthesia or incisions, so the procedure is relatively quick and easy with minimal discomfort. Because there is no surgery involved, there is also no need for extended recovery time; most people are able to return to their normal activities within a few days
Additionally, PDO thread lifts provide immediate results that continue to improve over time as collagen production is stimulated.
How long does it take to do the pdo thread lifting?
The average face thread lift appointment takes approximately one hour
The actual procedure of inserting the threads will take between 30-45 minutes
Once the treatment is completed, you may experience some swelling and redness, so be sure to plan your day accordingly.
If you're considering a thread lift, be sure to consult with Dr Niaz Reza at Cranbourne medical skin Clinic  who can help you decide if this procedure is right for you.
See The Results – Before and After Pictures
Look at these photographs of individuals who underwent the procedure, showing their appearance before and after. These images will provide a clearer understanding of the outcome you can anticipate from the procedure.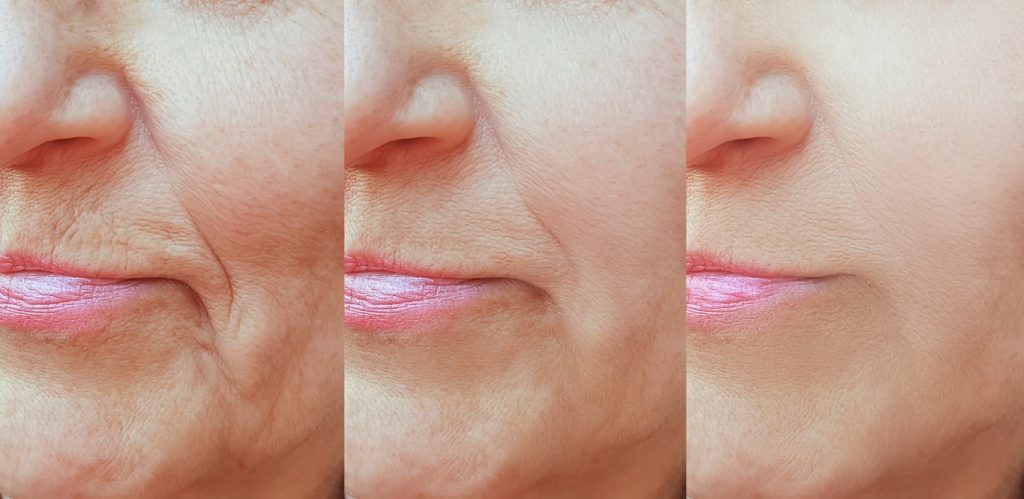 Priceing for Thread Lift Services
| | | |
| --- | --- | --- |
| Service | Original cost | 25% Discounted Cost |
| Mid-face Thread Lift | $2,000.00 | $1,600 |
| Jaw Line Thread Lift | $2,000.00 | $1,600 |
| Full Face Thread Lift (Mid Face & Jawline) | $3,250.00 | $2,600 |
| Brow Thread Lift | $1,500.00 | $1,200 |
| Fox Eye Thread Lift | $1,500.00 | $1,200 |
| Nose Lift | $1,875.00 | $1,500 |
| Smile Lines (Nasolabial Folds) | $687.50 | $550 |
| Upper Lip Area | $437.50 | $350 |
| Mouth To Chin (Marionettes) | $562.50 | $450 |
| Crow's Feet | $437.50 | $350 |
| Frown Lines (Glabella) | $437.50 | $350 |
| Neck Lines | $1,000.00 | $800 |
| Under Eye Area (Tear Troughs) | $562.50 | $450 |
| Cheeks Mono Threads | $750.00 | $600 |
| Forehead Lines | $562.50 | $450 |
| Cheek Hollowing | $750.00 | $600 |
| 1/2 Decolletage | $750.00 | $600 |
| Add-on Mono Threads | $162.50 | $130 |